What is Germany famous for?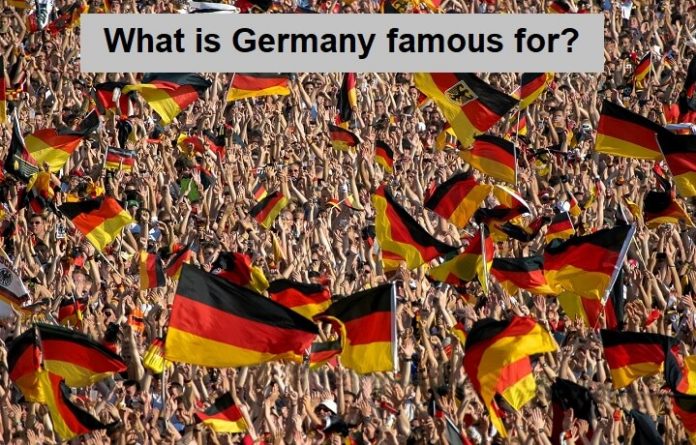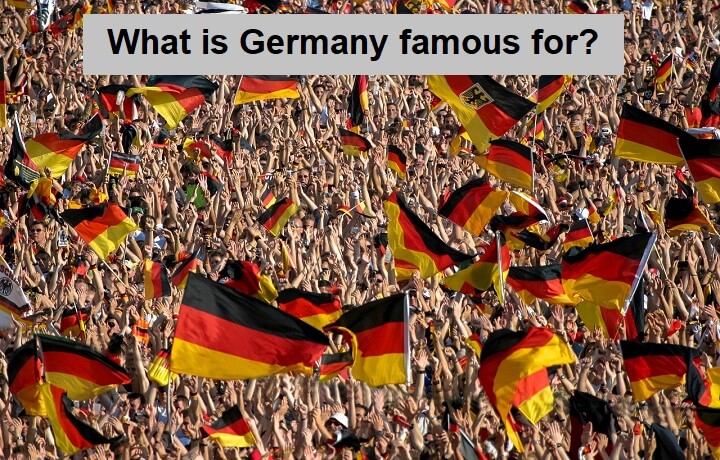 Located in the heart of the old continent, Germany is compelled of 16 states and is well known for being the largest national economy in Europe and one of the biggest in the world. With an interesting and rich history narrated by the old-fashion and colorful architecture, castles, palaces, cathedrals and monuments themselves, its landscapes, mountains and forests, delicious food and beer, Germany remains one of the top destinations in the world for travelers.
Usually when one says Germany, among the first things that come to people's mind is Hitler, the Berlin Wall and beer. However, Germany is not all about that. Travelers who have visited the country know that Germany is actually not only an economically and politically powerful country, but it also has a rich culture, with a population that has an extraordinary respect for tradition, history and humanity.
In this article, we have listed some of the things that Germany is very well known for, and given some interesting facts on how they became so known, and what makes them so interesting.
Beer
Of course, beer is the first one. Have you ever tried to think about how a German looks, and not seen him holding a huge beer mug in his hand?! Germans are the second largest beer consumers in Europe, after the Czech. Only in 2012 alone, Germans drank 2.25 gallons of beer, which is actually the lowest level since the fall of the Berlin wall in 1990.
It is estimated that the average German consumes around 140 liters of beer per year. Germans do not only love to drink beer, but they also love to brew it. There are around 1300 German breweries and 5000 brew brands that produce around 115 hectoliters of beer per year. It is estimated that if you decide to taste every day another different type of beer in Germany, you would need 15 years to taste all of them.
There is also a more than 500-hundred-year old law on beer that is called Reinheitgebot and states that only barley, hops and water shall be used in the brewing of beer.
Fun facts about beer consumption in Germany: Frederick the Great of Prussia loved beer so much that he banned coffee in 1777. On the other hand, in 1844, King Ludwig I of Bavaria attempted to impose a beer tax, which the people strongly opposed by going to the streets. The riots ended only when the King ordered a reduction in the price of beer.
Football
Germany National Football Team remains one of the strongest football teams, having won a total of four World Cups (1954, 1974, 1990, 2014) so far. Just like beer, football is a very strong trait with which Germany is identified.
Some of today's most well-known football players are from Germany as Miroslav Klose, Toni Kroos, Manuel Neuer, and Mesut Özil, who play for teams like Real Madrid, Bayern Munich and Arsenal.
Whenever there is a match of the German National Team, or one of the German Football Clubs as Bayern Munchen or Borussia Dortmund playing at the UEFA Champions League (and even for the other teams), cafeterias, restaurants, and even the municipalities put big screens in order to show the game. A lot of people gather in front of these screens, from grandmas to kids and watch the game together while drinking beer and eating the famous German sausages.
Bread & Sausages
Bread is one of the main foods part of every cuisine in Germany. Germans are well known for their long tradition of baking bread, and its taste and way of cooking changes from one part of Germany to the other. There are a lot of different types of bread, loaves and rolls, dark, white, sweet, soft, plain, with different seeds and taste.
Sausages, called Wurts in Germany, are also a very important part of the German Cuisine, made of pork, beef or veal and flavored in different way depending on the region. They are mostly consumed after a mug of beer or alongside with it.
Palaces & Castles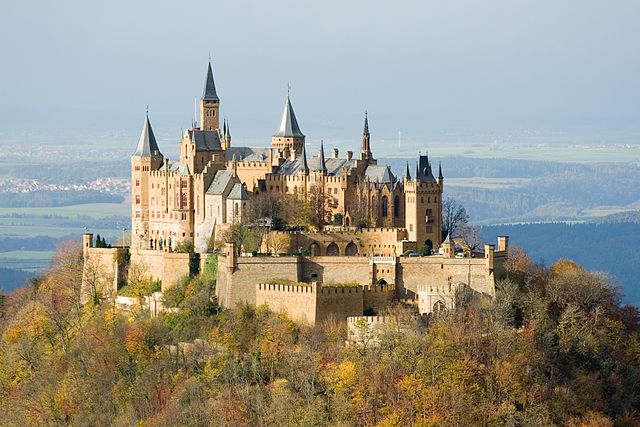 Middle Age castles and palaces built by the European nobility are among the most important buildings in the German architectural history. It is estimated that there are around 25 thousand castles throughout the whole country. The difference between castles and palaces is that the first were built for defense in a battle while the second were designed more as only a residence for the wealthy noblemen of the time.
If you are in Germany and you fail to see from close at least one castle and one palace then you have lost a lot in terms of experience and learning about Germany. Below we have listed few of the most famous palaces and castles of the country.
Sanssouci Palace
Summer Home of the legendary Friedrich the Great, King of Prussia, the palace is located in Potsdam and build in a Rococo style. It has sprawling gardens with wine grapes and fountains. From outside it looks as if it is part of a fairytale.
Schwerin Palace
This is one of the most luxury palaces in Germany, located on its own private island in the lake of Schwerin. Today it serves as a parliament for the Mecklenburg region and a public tourist destination as well. There is a legend that says the building is haunted by a troublesome little ghost called Petermännchen.
Neuschwanstein Castle
A Romanesque Revival castle build in 1869 that attracts more than 1.3 million tourists yearly, what makes it the most visited castle in the whole Germany. It was built by King Ludwig II of Bavaria and it has a striking view of the Bavarian countryside, which has been an inspiration to many creative works. You may not know, but the castle of Disney's Sleeping Beauty was based on this one.
Cochem Castle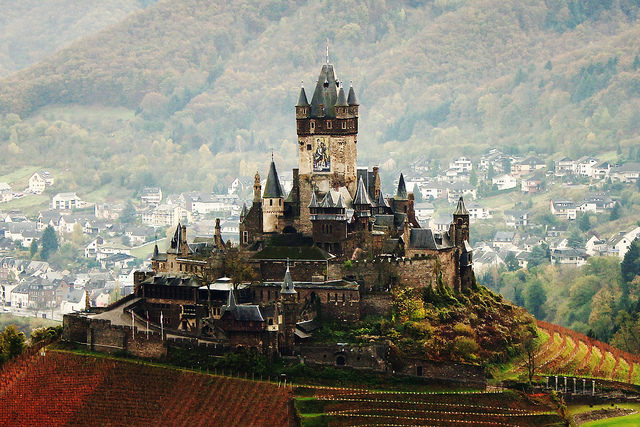 This one thousand-year-old castle that looks like the famous Hogwarts School of Witchcraft and Wizardry from the magical world of Harry Potter, is built in the tiny city of Cochem that has around 5,000 citizens. The castle has many towers, one of which is called Witches Towers. It is believed that during the 17th century witch-hunt, women suspected of witchcraft were thrown out of this tower to see if they survive.
Read also: 11 Extremely Marvelous Castles of Germany
Cathedrals & Monuments
Germany is home to a great number of cathedrals and monuments that date back to the BC era. Some of its most famous cathedrals date back to the 12 century, while there are monuments build in the 21th century that are listed among the most visited places by tourists in Germany.
Cologne Cathedral
The iconic Cologne Cathedral is one of the identification buildings in Germany. The Gothic cathedral started building in the 13th century and it took almost 600 years to completely build it.
Fortunately, the building survived even after being bombed 14 times in World War II. It houses the largest swinging church bell to have ever existed in the world, and it hosts 6 million visitors each year. Before the Washington Monument and the Eiffel Tower were built, Cologne Cathedral was the tallest building in the world.
Brandenburg Gate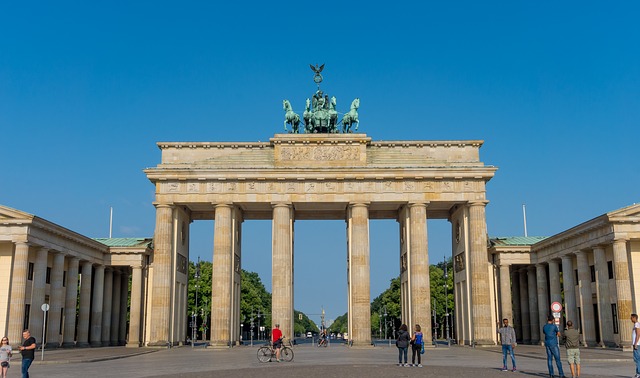 An iconic landmark located in the capital of Germany, Berlin, which is at the same time the largest city in the whole country. Build in a neoclassical style after the Acropolis in Athens and commissioned by a Prussian king as a symbol of peace, in the 18th century it served as a city gate. It also served as part of the infamous Berlin wall and was seen as a symbol of division for decades.
Memorial to the Murdered Jews of Europe
The memorial which was ceremonially opened in 2005 is built in the middle of Berlin in memory of the six million victims of holocaust. It consists of 2,711 unmarked grey concrete "stelae" located just south of the Bradenberg Gate. Since its construction, it has sparked a lot of criticism for the idea behind it and for what it represents. Still the memorial attracts a lot of visitors annually.
Festivals & Carnivals
Carnivals and festivals in Germany are a joyful period of the year in which whole cities engage in all-out parties and colorful celebrations. The Carnivals have a long history in Catholicism, while today they are celebrated by street parades of people wearing costumes and masks. There is a variety of carnivals and festivals celebrating all spheres of life and joy.
The Cologne Carnivals
A carnival that takes place in the streets of the Cologne each year, and opens exactly at 11 minutes past 11 on the 11th of the 11th month November. It consists of parades, balls and stage shows. People wear different costumes and masks and celebrate in the streets singing and dancing, and of course drinking beer. The parades are of different themes, and participants wear costumes and masks according to that theme
Oktoberfest
World's largest and one of the oldest beer and travel funfair festivals is held in Germany. Oktoberfest dates back to the beginning of the 19th century, and since then it is one of the most celebrated events in the history of Germany. The festival is all about beer, parades of restaurateurs on carriages from downtown to the festival grounds, and people in costumes. It is estimated that around 72% of the Oktoberfest participants are from Bavaria while the rest is from abroad. In 1999 alone, six and a half million people participated in the event.
Music festivals
In Germany, Music Festivals come alongside with spring, which are many, and even if you have a very specific taste in music, you will without a doubt find the festival that you will enjoy for every second.
Some of the most famous of these festivals are: Lollapalooza, which is the largest inner-city festival that is held in Berlin each 8 and 9 September. Fans of electronic music will love the Melt! Festival, which is organized every year in Ferropolis with famous performers. Just nearby, is organized one of Germany's biggest hip-hop festivals, the Splash! Festival, which also takes place in the city of iron.
Cars
If you know just a little about cars, then you must know that some of the most popular car manufacturers are from Germany, as Audi, Volkswagen, BMW and Mercedes-Benz. There are even car museum and factory tours for tourists who are car enthusiasts. The well maintained roads in Germany offer a great experience for drivers, what makes them love their cars even more.
Read also: Driving in Germany – Autobahn, Speed Limits, Drinking & More
Free Education
Differently from other countries, in which you will need to spend a fortune on education, in Germany education is free even for internationals. And we are not talking about primary and secondary education, since even higher education, public colleges and universities are free.
Still from these institutions have graduated and continue graduating some of  the most well-known leaders, artists and scientists not only of Germany but also of the world.
Read also: 51 Most Incredible German Scientists and Innovators of All Times
Nuremberg Christmas Market
Set at the Nuremberg Main Market Square  and organized each year at the most beautiful time of the year, the Nuremberg Christmas Market, or as Germans call it Christkindlesmarkt, is one of the oldest traditional Christmas markets in Germany. It is believed that it has been organized for almost every year since the early 17th century in Nuremberg.
There you can find all types of foods and drinks, starting from gingerbread, grilled sausages, blueberry Glühwein, tea, coffee and beer. You can also buy unique and handmade Christmas decorations and dolls of German Saints.
Read also: 44 Interesting Facts About Germany